Arburg focuses on production efficiency at Technology Days
German machine manufacturer Arburg GmbH + Co. KG recently conducted the Arburg Technology Days, an international event for the plastic injection moulding industry held 13-16 March at Lossburg, Germany, became a pedantry of 40 exhibits, focused on production efficiency.
The event featured innovative applications that include:
A fully electric two-component Allrounder 720 A with travelling injection unit and electrically rotating cube mould, which produces closure caps;


A hybrid Allrounder 570 H, which produces two IML food containers in 4.5 seconds;


High-speed precision application in which, an electric Allrounder 470 A produces 64 "dosing units" in a cycle time of 2 seconds;


An electric Allrounder 370 A which manufactures a so-called bottom layer for a lab-on-a-chip with sophisticated microstructures for use in medical technology;


And new products that include:
Size 630 A and 630 H electric and hybrid Allrounders with a clamping force of 2,500 kN;


Servo-hydraulic drive concept for the large Allrounder S, which reduces energy consumption by up to 50 %;


"Packaging" version for electric and hybrid Allrounders, developed specially for the packaging industry; and,


Productivity package for the hydraulic Golden Edition and S series; as well as specialist presentations on current injection moulding topics.


The number of trade visitors to the event hit an all-time record of more than 5,500 from 47 countries, according to Arburg.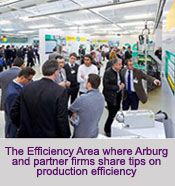 Its centrepiece, the "Efficiency Arena" exhibition, featured eight stations that cover the entire value-added chain – from product design and mould technology to machine technology, peripherals, configuration, process integration, process control and production planning. Arburg and some partner firms shared practical advice for increasing injection moulding efficiency at their own production facilities in terms of energy requirements, cycle times and unit costs:
The turnout of participants at this year's recent edition of Technology Days had brought up the total of 50,000 trade visitors to Lossburg since its first staging in 1999.
Michael Hehl, Managing Partner and spokesperson for the Arburg Management Team said that around 41% of the visitors came from outside Germany. The largest group of visitors came from Switzerland (220 participants) and the USA (200 participants), followed by France (150 participants), the Czech Republic and Italy (each with 140 participants) and Poland (120 participants).
On demonstration at the event were an Allrounder 470 C Golden Edition moulding cups from a 100% bio-derived PET ( that is not biodegradable), and an Allrounder 370S making boxes using PLA with timber fibre content; and an Allrounder 570 H producing IML food containers in 4.5 seconds, with a material throughput of over 22kg/hour.
The event also included, for the first time, factory tours that were attended by some 1,800 guests to 240 German-speaking tours and several foreign groups who were given presentations in their own language. As Arburg was amongst the first companies to gain triple certification last year, the tours included briefs on the subject of ISO 50001 energy management certification.
At the event's press conference, Arburg, also expressed its plan of achieving growth in packaging in Asia, as well as South America, adding that the best potential for growth is seen coming from the Far East. despite its machinery costing more compared to locally-sourced machinery.
Anticipating a consolidated turnover for 2012 at €488m – an increase of around 4% compared with 2011.
Speaking at a press conference on 13 March 2013, held during Arburg's Technology Days, managing partner Michael Hehl said anticipated future growth will be in Asia and South America, with most growth coming from the Far East. Heinson identified USA as Arburg's biggest foreign market. But he also considered the Far East as having the best potential for growth despite Arburg's machinery being relatively expensive compared with locally-sourced machinery.
Meanwhile, Arburg's sixth annual Energy Efficiency Award was also held during the affair, citing German drive and control technology maker AMK, for this year's award.
(IMA)