M&As: Apollo buys stake in Canadian auto parts firm; Avon Group expands after acquiring two companies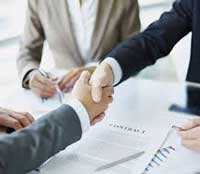 Automotive parts firm ABC Technologies Holdings Inc. says that its majority shareholder, ABC Group Canada, an affiliate of funds managed by Cerberus Capital Management, has entered into a share purchase agreement with certain funds managed by affiliates of Apollo Global Management to sell a majority stake in the company to the Apollo Funds.
Under the terms of the agreement, the Apollo Funds will purchase 51% of the outstanding common shares (on a fully-diluted basis) of the company from ABC LP for CAD$10.00 per common share. Upon closing of the transaction, the parties will enter into an amended and restated investor rights agreement, which will provide Apollo with, among other things, certain director nomination rights, registration rights, pre-emptive rights and information rights. At closing, Apollo will be entitled to nominate five of the nine members of the Board, while ABC LP will retain the ability to nominate three members of the Board. The parties anticipate announcing the future composition of the Board closer to the closing date.
ABC Technologies President/CEO Todd Sheppelman said, "ABC's strong operational and financial performance, combined with its near-term opportunities as a platform for industry consolidation in the automotive technical plastics space, led to an unsolicited offer from the Apollo Funds to acquire a majority stake in the company and join in the journey outlined during ABC's recent IPO process. We are excited to gain access to Apollo's expertise and resources and look forward to a highly collaborative relationship as we continue to grow our business and better serve global automotive customers with industry-leading products."
Apollo Partner Michael Reiss said, "ABC Technologies is a top supplier in the automotive industry, bringing innovative solutions to OEM customers across North America. We are excited by the platform's ability to act as a consolidator of the fragmented plastics supplier space, a market with strong momentum driven by vehicle lightweighting and a sustained increase in automotive plastics contents. We believe Todd and the management team are the right leaders to help ABC Technologies become a global force in the Tier-1 automotive supplier space and Apollo looks forward to supporting the company on this path."
Closing is subject to customary closing conditions including the receipt of applicable regulatory approvals in Canada, US, Mexico, Spain and Poland.
In accordance with the terms of the Agreement, the acquisition price may be increased to C$10.64 per common share upon consummation of one or more acquisitions by the company, meeting certain agreed upon thresholds, if entered into prior to or within 12 months following closing. The acquisition is exempt from the take-over bid requirements of applicable Canadian securities law.
At closing, the Apollo Funds would acquire 27.7 million common shares from ABC LP (assuming the number of issued and outstanding common shares on a fully diluted basis as of closing is 54.2 million) for CAD$10.00 per common share, representing aggregate consideration of CAD$276.6 million. Assuming the additional consideration (as described above) becomes payable, the Apollo Funds will pay additional consideration of CAD$0.64 per common share, representing total consideration payable to ABC LP of CAD$10.64 per common share and CAD$294.3 million in the aggregate (assuming the number of issued and outstanding common shares on a fully diluted basis as of closing is 54.2 million).
Meanwhile in other news, UK-based manufacturing and engineering business Avon Group has expanded with its second acquisition of an industrial component company within the past six months. It has acquired gasket manufacturer Scandura after adding Gloucestershire company Edgewest Plastics to the group in October.
Scandura, based in Corby, Northamptonshire, specialises in supplying specialist gaskets and industrial rubber products to a wide range of industry sectors including automotive, white goods manufacturing, petrochemicals and aerospace.
Edgewest Plastics, based in Malvern View Business park in Bishop's Cleeve, north of Cheltenham, supplies plastic-moulded components to some of the UK's largest manufacturers of plumbing and bathroom products.
Avon Group will retain the employees, equipment and premises of both businesses, which will continue to operate autonomously as part of the group.
The family owned Avon Group now comprises eight group businesses based around the UK and the US with a group turnover of £80 million.
(IMA)
---
Subscribe to Get the Latest Updates from IMA Please click here
©2021 Injection Moulding Asia. All rights reserved.