M&As: Arlington acquires Truimph's composites business; Mitsui/Nippon Shokubai jv acquires DIC's SMC business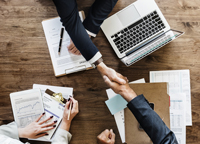 US-based private equity firm Arlington Capital Partners has agreed to acquire the composites business of Triumph Group for an undisclosed sum. Included in the sale are the Triumph Aerospace Structures composites locations in Milledgeville, Georgia, and Rayong, Thailand.
The operations cover approximately 800,000 sq ft of factory space and employ approximately 600 people. The composites business provides structural and engine composite fabrications and assemblies across commercial, business jet, and defense platforms. Key programmes supported by the sites include Boeing 787, 777 and V-22, Airbus A320, A330 and A350, Embraer E-2, Northrop Grumman Global Hawk, as well as the Gulfstream G650/700.
Since 2016, Triumph has divested 13 non-core businesses, including this recent announcement, as part of its transformation efforts to de-lever the company, enhance margins and position the company for long-term success.
"With the sale of Triumph's composites business, Triumph continues to execute on its previously announced Aerospace Structures strategic review. This transaction will further reduce debt and enhance liquidity while moving the company towards its future state as a leading provider of systems and aftermarket service," said Daniel Crowley, Triumph Group, President/CEO.
The transaction is subject to customary closing conditions and is expected to close in Triumph's second quarter of FY21. Following the close of the transaction, the business will retain its management, technical and supporting staff, and will continue operations at the current facilities.
Meanwhile in other news, Japan Composite Co., owned 65% by Mitsui Chemicals and 35% by Nippon Shokubai, has agreed to acquire the sheet moulding compound (SMC) and moulding operations ofDIC Kako Inc. The business acquired will change to JC Kako Co and is due to begin operating on 1 December 2020.
The incorporation of DIC Kako's SMC business will make for a dual-plant set-up between Shimizu and Narita, boosting Japan Composite's SMC production capacity by 70% to 33,000 tonnes for a more stable, robust supply structure.
In addition, with the resultant integrated supply chain spanning the unsaturated polyester resin used as a raw material through to the SMC and its moulding process, this will further enhance Japan Composite's ability to offer solutions to customers.
A compound of unsaturated polyester resin mixed with filler and glass fibre before being rolled into sheets, SMC offers strength and a resistance to hot and cold water means that give it use in a wide range of applications, including automobiles and household amenities such as kitchens, toilets and baths.
The expansion in demand for housing renovation has given rise to a growing need for high-performance SMC offering a premium design finish.
In the automotive sector, meanwhile, the shift to electric vehicles and the need to reduce vehicle weight is driving rising demand for structural parts and other exterior applications that take advantage of SMC's heat resistance, strength and dimensional stability.
(IMA)
---
Subscribe to Get the Latest Updates from IMA Please click here
©2020 Injection Moulding Asia. All rights reserved.