All-plastic front end for new Golf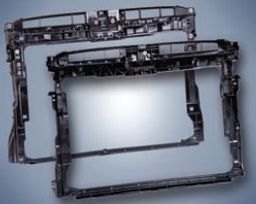 With the front end carrier in the new Golf 7 completely made from plastic, making it one of the world's first front end carriers without metal reinforcement and also replacing the previous PP hybrid part, the weight has been reduced significantly. German firm BASF supplied its Ultramid B3WG8, a highly-reinforced polyamide with the simulation tool Ultrasim used in the development process. The sheet steel parts that had been attached previously are now eliminated.
The requirements for the all-plastic part included a variety of challenging load cases such as static and dynamic hood latch failure, where incorrect opening and closing of the engine's hood is simulated and tested under the harshest conditions. At the same time, the stiffness and vibration behaviour of the system comprising front end and radiator was optimised on the basis of CAE analyses and validated in an actual vibration test.
(IMA)