Arburg appoints new service partner in Morocco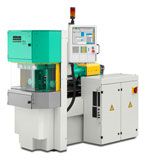 German injection moulding machine maker Arburg has appointed Sopri as its trading partner in Morocco to provide what it says will be "even more effective on-site service". French subsidiary Arburg S.A.S. will maintain its activities in the areas of sales and customer support in Morocco, as it has done for over 20 years.
Sopri has been established in the plastics industry since 1978, and is a well-known name throughout the country with regard to training and consulting, adding that "the Moroccan company has unique knowledge of the market." Sopri employs a staff of up to 12 employees in both of the above-mentioned sectors.
"The service technicians who will work on Arburg's behalf in the future have not only completed their training directly at Arburg in Lossburg, but will also receive ongoing further training to ensure that they keep up with the latest technical developments. Arburg customers can rely on the same level of top-class service through Sopri everywhere in the country, from Agadir to Tangier and from Marrakesh to Oujda, which is also something quite unique for Morocco."
The firm will undertake service, including the maintenance, commissioning and calibration of Allrounders, including the supply of spare parts to customers from a central warehouse in Casablanca.
(IMA)