Wittmann opens new facility for robots in Germany
Austrian/German injection moulding and robot maker Wittmann has invested EUR7 million to set up a new facility in the industrial estate of Nuremberg-Feucht with 3,000 sq m production floor and 1,200 sq m of office space. At the moment, the new building houses 120 employees. A further expansion at the previous location of Wittmann Robot System in Nuremberg-Schwaig would not have been possible.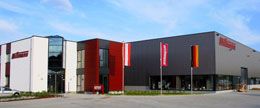 The new factory has also been created as an automation competence centre for the Wittmann Group. It includes production that has been equipped with a CNC 3-axis machining centre and a repair department. In addition, the Nuremberg-Feucht facility has a presentation room, classic high-bay racking for spare parts, as well as special areas for dispatch handling, pickup, and delivery.
From now on, the Wittmann Robot in Nuremberg-Feucht will prepare and assemble robots and automation systems for the specific needs of its customers. The Nuremberg branch is expected to realise a turnover of EUR30 million for the current year.
The firm says that Germany is by far its most important market in the world, and Nuremberg is its main location in regard to automation technology in Europe.
(IMA)