Rediscovering LSRs in home healthcare medical devices
Emerging infectious diseases and the rising number of lifestyle diseases are pushing the shortage of hospital beds to critical levels. Several initiatives have been undertaken but the most practical step is to go back to the basics, which is home healthcare. This trend is paving way for an increasing demand for portable and single use devices, says Angelica Buan.
Single-use devices
The worst scenarios to have been reported as a result of hospital bed shortages are that patients are either refused treatment or discharged prematurely.
And in many cases, hospital corridors become extensions of wards, compromising patient privacy as well as the contraction of infections.
Home healthcare is one way of easing the burden of a healthcare system that is struggling from the lack of healthcare professionals and adequate facilities.
The availability of technologies for single-use treatment devices, disposables and portable medical tools facilitate patient transition from the hospital to the home.
This demand has given rise to the growth of liquid silicone rubber (LSR) as a material of choice for devices that offer hypoallergenic qualities, as well as ease of cleaning and sterilisation. The global silicone market, based on a forecast by Global Industry Analysts (GIA), is expected to reach US$17.2 billion by 2017.
Preference for LSRs is increasing, because unlike latex rubber, which produces allergic reactions to some users, LSR is non-allergenic.
A single-use first of its kind in the market nasal device for migraine has been developed by Tian Medical in the US. Collaborating with medical moulder Plas-Tech Engineering, the new Tx360 Nasal Applicator device is intended for use on adult patients to deliver small amounts of fluid into the inner crannies of the nasal pathway.
Meanwhile, British scientists from the King's College in London have also developed a breakthrough LSR-moulded device that delivers needle-less dry vaccinations through the skin, which is ideal for use in warm climates (as it needs no refrigeration) as well as resource-limited countries.
Better than other elastomers
As a material, LSR allows for a greater degree of clarity and chemical as well as temperature resistance, unlike high-consistency silicone rubber (HCR) and other elastomers. The flexible material also works favourably for intricately-shaped parts and smooth surfaces that require high precision. Compared to PVC, LSR does not contain phthalates and plasticisers.
US-based Bluestar Silicones recently launched its Silbione low-durometer LSR, room temperature vulcanised silicones, gels and skin adhesives and a new patent-pending silicone foam.
The 1 Shore A hardness product, Silbione LSR 4301, exhibits strong physical properties and easy processing in a low-durometer material. The company's patentpending silicone foam technology, cited in last year's Frost & Sullivan Product Differentiation Award, offers low-density open cell silicone foam for flexible, breathable and durable applications.
According to Bluestar, the soft silicones physical properties, such as high tear strength and elongation, can now be achieved in low durometer soft silicones, ideal for use in a broader range of applications in the healthcare sector.
NuSil Technology, a US company producing silicone compounds for the healthcare, pharmaceutical and drug delivery industries, has introduced MED-5440, a translucent 100 mol% fluorosilicone elastomer. The two-part silicone rubber with a 1:1 mix ratio has a Type A durometer of 40. Designed for liquid injection moulding processes, MED-5440 cures rapidly when exposed to heat. It also resists swelling when in contact with or immersed in dimethyl fluids and most solvents or oils. Some typical applications for MED-5440 include O-rings, gaskets, seals, and precision moulded parts for implant applications requiring silicones of medium durometers.
Recently, Munich-based chemical group Wacker Chemie launched a new silicone rubber of variable hardness for orthopaedic and prosthetic applications. The low-viscosity Silpuran 2410 A/B, an additioncuring silicone, can be made harder or softer in the lower Shore A range by varying the mixing ratio of its two components. The material cures to a highly elastic, translucent elastomer. It is breathable and compatible with the skin. It possesses good damping properties and exerts a soft and gentle compressive effect.
According to Wacker Chemie, the compounds are suitable for soft and elastic orthopaedic products, such as shoe insoles, heel cushions and truss pads, adding that they can be freely combined and processed with each other. This also applies to elastomers of different Shore hardness values; crosslinking occurs rapidly at elevated temperatures and no byproducts are released.
US firm Dow Corning has also come up with new LSR grades that give medical device manufacturers and fabricators broader material choices for intricate devices and components. The QP1 family of eight translucent silicone elastomers is targeted at short-term and non-implant and insertion applications. The twopart, platinum-catalysed silicone elastomers, supplied in a kit, are suitable for liquid injection moulding.
They combine high tear strength for optimal durability in applications facing tough physical demands, such as membranes, with low compression set, which is of particular value for parts such as seals or valves that are subjected to compression during use, the manufacturer states.
Dow's US-FDA food contact compliant materials are available in a wide range of durometers with tear strength as well as other processing advantages that can reduce cycle times. The firm also says the materials are formulated without the use of peroxides, peroxide by-products, chlorophenyls or PCBs and are totally free of organic plasticisers, phthalates or latex additives. Applications include short-term (29 days or less) implants such as wound drains and gastric feeding tubes; non-implant devices, such as needleless access valves; surgical devices such as anaesthesia masks, and consumer products including nasal aspirators.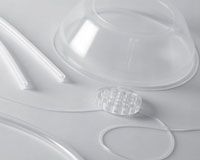 Challenges of LSRs
Given that the right moulding machine is used, manufacturers can fully benefit from the minimal waste and faster cycle times of LSR during processing, also since it requires no secondary operations.
Wider applications of LSR are only limited by designers' depth of experience, education and creativity, and manufacturers' experience and willingness to explore new innovative uses of this medical material.
These benefits outweigh the fact that LSRs cost five times as much as other materials, such as TPEs and TPUs.
Not to mention that moulding the silicone parts is a challenge in terms of engineering processes and the selection of the appropriate machine.
Injection moulders also have to be capable of precision LSR moulding required for many medical devices.
Adequate training to mould LSR as well as being equipped with a cleanroom to produce precision moulding are vital to optimising LSR's potential for a wide range of applications.
(IMA)