Automation of IML packaging
Increased shelf impact
An increasing number of companies are choosing IML (In-Mould Labelling), instead of other methods of decoration and packaging. Decisive factors are the photographic quality and the fact that packaging today is no longer just a functional container but a communication channel. Price and packaging of a product are extremely important at a point of sale and in influencing purchasing decisions.
Last year alone, Beck Automation delivered around 40 plants. It has a total of 550 IML automation machines in the market today, with some of these in operation for over 15 years. The food packaging sector continues to dominate, with around 66% of all machines sold last year going to the food packaging sector. The remaining were solutions for containers for paints and oils, technical parts and for the cosmetics sector.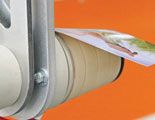 IML compared to cheaper decorating packages
Modern packaging has long overcome its role as a simple container and is now a media with significant means of communication. For example, due to its photorealistic, high quality imaging, IML can get a product noticed on the shelf.
Another benefit is that IML offers a great deal of flexibility for new, additional or promotional packaging motifs and their variants. In the case of multi-colour printing, this is harder to achieve and is not necessarily more cost-effective.
Meanwhile, producers of paint tins, with conventional labels or printing, are switching to plastic containers with IML. This is due to the benefits mentioned and additionally, the smaller footprint since IML packaging is lighter and therefore requires less energy for transportation. A further example is the enhanced premium feel of thermoforming packaging in the food sector. By changing to injection-moulded IML packaging, a company can upgrade the look of its products.
IML trends
New foils are being developed with one of Beck's partners, Verstraete Printing Company in Maldegem, Belgium, producing an increasing range of metallic-effect IML labels. Gold and silver are currently top of the list of favourite colours. These UV-resistant metallic colours achieve the look and feel of rotogravure and flexographic printing. Unilever was the pioneer for margarine tubs with metallic IML.
But IML has become an important option for packaging design in non-food applications too, especially in cosmetic packaging, where there is a demand for very high quality gold and silver colours.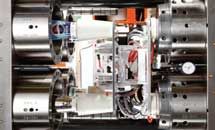 Automation technology
Basically, there are three requirements for automation: improvements in cycle times with a high number of cavities; high levels of availability and excellent process quality and consistency.
There have also been a number of developments in the area of remote diagnosis, since service is a relevant factor today.
Quality assurance is also becoming increasingly important, with camera-based vision systems becoming a dominant method of monitoring the flow of materials and parts. This trend took off in 2010 in high-tech markets that were driven by short cycle times. With very fast IML machines, with six cavities, up to six cameras are required. This is a 10-15% cost increase per machine. However, the additional investment pays for itself very quickly if a manufacturer is able to monitor output. In the long term, deployment of vision system monitoring is set to grow.
As developments in the packaging industry are very fast moving, cycle times can today be less than 3 seconds. The number of cavities continues to rise each year, thus requiring increasingly complex systems.
Training and communication are also very important – from the procurement side with suppliers of labels for instance, and with sales partners as well as with tool makers and manufacturers of injection moulding machines. Furthermore, application-specific consultation, advice concerning prevention measures, internet-based communication and remote diagnosis are all vitally important "soft factors".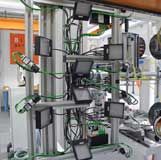 The majority of machines are tailor-made, either optimised for rapid feed and removal of parts or designed for maximum flexibility to cover a specific product family. In order to achieve optimal customisation results, time is required for engineering, thereby customers are involved right from the development phase of a product and the production solution.
Proudly Swiss-made
In order for an industrial product to claim that is "Swiss-made" at least 50% of its added value has to be of Swiss origin. As is commonplace in mechanical engineering, there are lots of components that are procured worldwide. Then there are elements that allow less potential for added value, which are imported. However, the majority of Beck's parts still come from Switzerland.
Beck is also involved in the development of the mandrels. These are the parts that pick up the labels. Today, these mandrels are made from a solid block of plastic. The connections for the vacuum and static charge are complex areas of design and manufacture. Modern manufacturing methods are opening up new possibilities and the mandrels can now be manufactured to be more ergonomic, lighter and cheaper to make.
Development of markets
In the packaging industry, markets are very global indeed. However, there are differences in terms of quality demands and IML packaging can be found in the premium segment. Alongside established markets such as Europe and the US, other countries like Russia, Middle Eastern countries, South Africa, Iran and Brazil are catching up fast. Wherever multinationals, such as Unilever, Procter & Gamble or Nestlé, penetrate markets, IML gains more prominence.
In addition, markets with clean room and cosmetic applications look set for future growth. From a production perspective, IML opens up a real singlestage process to packaging, and visually, there are numerous options with attractive, metallic-looking foils plus innovative ways of depicting instructions for use, something very relevant in the area of medical applications. Another example is the launch of IML into the roll-on deodorant market.
IML excels with key benefits that reinforce the premium quality of a product. At the same time, global players ensure that this application is spreading throughout product categories. Totally new areas of application are also coming into force, such as technical products in the medical field and the cosmetics market, with the future of the sector looking promising indeed.
Acknowledgement:
Founded in 1934, Beck Automation in Oberengstringen, Switzerland, supplies IML automation solutions for injection moulding applications. Its core business is providing solutions for the decoration and labelling of lids, tubs, trays and buckets for a wide range of applications. The Swiss firm delivers some 35 to 45 machines a year. In 2012, company turnover was CHF10 million and it employed 37 staff.
(IMA)