VW installs Sumitomo Demag machine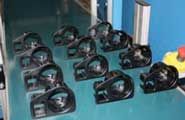 Volkswagen's Braunschweig plant has installed a fully electric IntElect 220- 1100 injection moulding machine from Sumitomo (SHI) Demag for producing lighting dial trims for the Golf VII. An advantage of the IntElect series compared to hydraulic machines is the low energy consumption of the direct drives in the plasticisation and injection procedure, as well as when opening and closing the mould. In addition, the braking energy from each main axis is temporarily stored in order to provide energy for the other axes. In this way, IntElect machines save up to 85% of the energy compared to conventional solutions, says SHI. Direct drives convert less energy into heat than hydraulic drives do, so in addition, they require less cooling power than comparable conventional machines.
VW adds that the firm has improved cycle time by 15%, compared to a hydraulic machine, and reduced scrap because of the increased precision and repeat accuracy.
(IMA)