CoreTech and PME to offer CAE tool for fluid injection moulding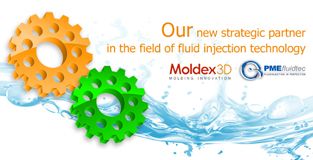 To advance the technology and application of WAIM, Taiwan-based 3D CAE simulation solution provider CoreTech System (Moldex3D) and German fluid injection technology supplier PME fluidtec have entered into a joint development to develop what they say will be "a truly representative CAE simulation tool for fluid injection moulding."
PME fluidtec is a specialist precision engineering company in the field of fluid injection (Water Injection Technology/Gas Injection Technology), that is focused on the development, process support and production of components and installations for fluid assisted injection moulding using water or gas cavity pressure technology with over ten years experience.
"Fluid injection moulding technologies have received extensive attention in recent years as it enables greater freedom of design, faster cycle time, material savings, weight reduction, and cost savings," said Friedrich Westphal, President of PME fluidtec. "We firmly believe CAE simulation technology for fluid-assisted injection moulding can help our customers avoid undesirable developments at the product and mold design stages, reduce development time and cost, as well as optimise the process and mould design by visualising 3D flow behaviour."
Venny Yang, President of CoreTech System (Moldex3D) noted, "We firmly believe that a precise 3D CAE simulation tool can allow our users investigate the real production process and increase manufacturability.
CoreTech System (Moldex3D) and PME fluidtec are jointly establishing a detailed plan and specifications for following development and validations. The enhanced capabilities are expected to be available soon.
(IMA)