Stackteck upgrades IML pilot cell with automation equipment
StackTeck announces a new commitment for the existing In-Mould Labelling (IML) pilot cell at its facility.
As with previous generations of IML pilot cells, the third generation cell began using automation equipment from ABB and CBW Automation.
Since the demand for IML prototyping has been continuous and growing, StackTeck has purchased the automation as a permanent asset that will maintain the cell availability for customers on an ongoing basis.
The value of the IML pilot cell, is that it minimises the cost of prototyping IML parts. A moulder needs only to purchase moulding surface components, a mandrel, and a magazine that are needed for a particular part. The rest of the hardware is already in place at StackTeck, including single cavity mould bases provided by StackTeck that are suitable for most packaging applications.
The current IML pilot cell is set up beside a 330-tonne Husky test machine, however it is a flexible setup that can be moved to other machines when required. The system is equipped to run a single cavity mould, with automated handling of pre-cut labels, as well as part de-moulding and stacking automation. StackTeck's Technical Services Centre has 10 bays for mould testing and an additional four bays for systems integrations, with test machines ranging in size from 110 tonnes to 660 tonnes.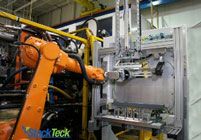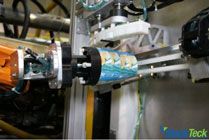 According to Randy Yakimishyn, President of StackTeck, "We're taking the initiative to work with leading suppliers to minimize our customers' up front costs involved with new IML product development. IML technology offers tremendous added value for injection moulded parts, by enabling high quality decoration with a broad range of part design features, such as non-round shapes, tamper resistance, as well as specialty labels. For two past projects, our customers have reported sales volume increases of 12% and 23%, following the introduction of a new IML package."
StackTeck's first IML pilot cell was set up in 2005, which supported many of the earliest large volume IML projects in North America. After it was purchased by a US customer, a second pilot cell was initiated in 2007.
Over the course of the three pilot cells built to date, StackTeck has worked jointly with ABB, CBW Automation, Husky, Machines Pages, and Netstal; as well as other leading IML automation providers who sometimes provide mandrels and magazines for specific projects.
For new product launches, the pilot cell allows for an early pre-launch simulation of how the production system will run at a later time. The current IML Pilot Cell is a dedicated single cavity molding system, including automation for label insertion and part removal and stacking.
• Dedicated 330 US Tonne Machine
• IML Robotics to handle single cavity moulds
• Capable of all label types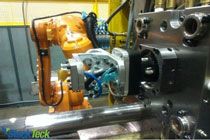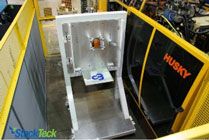 StackTeck offers complementary services for plastic part design, label design, in addition to the following development services for new IML products:
• Prototyping and Sampling
• Label Testing
• Short Production Runs
(IMA)