Taiwan plastic and rubber machinery industry at the helm for sustainability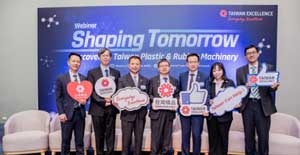 As environmental awareness rises, efficient production and recycling rates of plastic wastes have become the most important issue in the plastics and rubber industry. In response to this trend, Taiwan's rubber and plastics industry continues to develop products that meet the criteria for efficiency and sustainability.
At the webinar titled, "Shaping Tomorrow, Discovering Taiwan Plastic & Rubber Machinery", held on May 6, and organised by the Bureau of Foreign Trade (BOFT), the Ministry of Economic Affairs (MOEA) of Taiwan, and the Taiwan External Trade Development Council (TAITRA), in conjunction with Taiwan Association of Machinery Industry (TAMI), five leading Taiwanese companies, namely, including Allen Plastic, ChumPower, Fu Chun Shin, Multiplas and Polystar, shared their advance smart manufacturing solutions.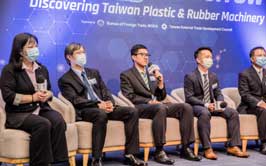 Bush Hsieh, Vice Chairman of Plastic and Rubber Machinery Committee, TAMI affirms the Taiwan machinery industry's leadership in advance technologies and top-quality after-sales services. Furthermore, with the effort of the government and the industries, the Taiwanese machinery industry is still performing well during the post-Covid-19 period. Recent statistics indicated that Taiwan's machinery industry export value is US$2.9 billion in March, 2021, rising 30.7% compared to last March.
Celina Lin, Sales Representative of Allen Plastic Industries Co, Ltd introduced its Horizontal Shrink Sleeving Machine (AHL-1000), which is suitable for shrink container sizes from a diameter of 8mm up to 30mm and products such as lipsticks, eyeliners, and eyebrow pencils. The machine can also be positioned in just 0.5 seconds owing to its highly accurate rotary positioning system. She also introduced Automatic Shrink Sleeving Machine (ASL-1000 and ASL-2000), which easily integrates with clients' existing packaging lines and is ideal for bottles of various widths and label positions.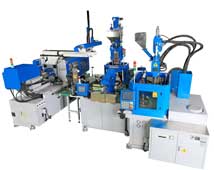 Tony Wu, Sales Support Engineer, ChumPower Machinery Corp, presented its High-speed Stretch Blow Moulding Machine, which has an output per hour of 24,000 bottles. The machine has three special features with the first being to use lightweight preform. The lightest bottle is 200ml and weighs just 4.3g, which saves US$ 300,000 raw materials cost and 14% heating energy. The second feature is the use of a 38mm pitch heating oven, which allows more preforms to be heated at one time compared to a 50mm system, making it 33% more space efficient in heating all the preforms. The third feature is to use an air recovery system. Instead of venting out completely into the atmosphere, part of it can be redirected to a recovery tank and stored for other usage. The rest of the bottle air is then discharged into the environment. This method achieves a recovery rate of up to 15%.
Hank Wu, Sales Manager, Fu Chun Shin Machinery Manufacture Co, Ltd (FCS) emphasised that FCS has increased the servo motor output of its FA series from 57kw to 71.9 kw, optimised the system pressure "160 Bar" to improve the injection response, increased the platen size by 10.7% and reinforced the strength of the platen by 30%, allowing customers to run FCS's machines on more applications. In addition, he also introduced that iMF 4.0 (Intelligent ManuFactory) can be mounted on the injection moulding machines and can independently adjust and control quality parameters based on the surrounding information. It is also equipped with water flow, and a melt viscosity control system, enabling the monitoring of the correct water volume and flow and the correct viscosity on different cavities, which automatically compensate for the short shot and flash. This system can also record the time spent by different operators, so that mangers can determine the SOP to unify the standard mould change time/cycle time to stabilize efficiency.
David Wu, General Manager, Multiplas Enginery Co. Ltd introduced the Fully Automatic Production Cell - Unman Screwdriver Production Line, which integrates vertical/horizontal injection moulding machines, the 6-axis robot, and auxiliary machines to achieve fully automated production. As the leading total solution provider, Multiplas offers versatile moulding solutions including Vertical Injection Moulding, Micro Injection Moulding, Multi-Colour Injection Moulding and more. In addition, it deploys its own technology to develop a smart injection moulding system for customers worldwide in the electrical, automotive, and sports industries with amazing reputations. Multiplas clients include Bosch, Black & Decker, Johnson & Johnson, 3M, Panasonic, Hitachi, Daikin, Foxconn, Asus, Nike, and Callaway to name but a few.

David Lo, CMO, Polystar Machinery Co Ltd stated that the development of the recycling business has become more important due to global environmental protection, and he shared the topic "Recycling Made Simple" to help businesses perform the "Circular Economy". The clean post-industrial/factory films waste can be fed into its Repro-Flex machine to get a superior quality of recycled pellets. These can then be mixed with virgin material to reproduce a stable product and save new material purchasing costs and reduce waste, increasing output by 20% and lowering power consumption by 10%. The applicable processing material includes PE/PP film rolls, bag scraps, stretch/shrink and bubble film sheets and Polystar's Repro-ONE can even process solid structures (woven sacks/raffia/tape) and hard-to-regrind material. The power consumption is only 0.28~0.35 kw/kg on average and the Repro-PLUS is equipped with an advanced automatic melt filter to perform with the best filtration efficiency, which can be used to process post-consumer waste such as paper labels, dirty grease, dust and more.
Meanwhile, TAITRA's next event, "TaipeiPLAS" will be held from September 28 to October 2, 2021. Visit https://www.taipeiplas.com.tw/en/index.html for more information. (Press Release)
(IMA)
---
Subscribe to Get the Latest Updates from IMA Please click here
©2021 Injection Moulding Asia. All rights reserved.