Exhibition proves its mettle with new technology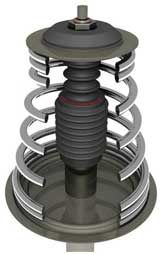 The recently concluded Fakuma show, held in Friedrichshafen, Germany, attracted an estimated 44,176 visitors, compared with 44,823 last year, which was a slight decrease of 1.5%. Nevertheless, with about 1,700 exhibitors from 35 countries no momentum was lost with the exhibits on show and technology proved to be the draw factor.
New developments from materials suppliers
US firm Invista Engineering Polymers showcased its Torzen Marathon PA66 resin for the automotive sector. The resin boasts property retention when subjected to high temperatures for an extended amount of time, at least 100% tensile strength retention at 210°C after 1,000 hours. Invista is also developing technical tools for customers and other market players, including mould flow and FEA analysis.
Another US firm DuPont Performance Polymers collaborated with injection blow moulding equipment specialist Ossberger to produce the jounce bumper component, which is part of a vehicle's shock absorber system, from its Hytrel thermoplastic elastomer. Other new grades from the Zytel long-chain polyamides deliver salt stress cracking resistance similar to PA11 and PA12, for use in fuel and air brake lines, typically the domain of PA12. The firm also extended its halogen-free materials, with a new flameretardant (FR) PA66 with enhanced thermal ageing.
To cater to the growing global demand for PC for LED lighting, Germany-based Bayer MaterialScience is expanding its grades for injection moulding and extrusion, including high thermal conductivity grades for cooling elements used for the thermal management of LEDs and a film that joins the points of light from individual LEDs to form a homogenous band of light.
US firm Huntsman has developed a new polyetherbased PU (Irogran A85P5050DP) with low melt properties that is easy to process and is suitable for coating textiles by calendaring – a technique used to give fabric a smooth, glossy, hard-wearing finish.
Meanwhile, barely two years after its introduction, the high-temperature resistant Ultramid PA Endure from Germany-based BASF has been used by automotive parts supplier Montaplast for a heat shield in the charge-air manifold used on the four-cylinder diesel-powered engine from Daimler.
Machinery highlights
Injection moulding machine maker Arburg had more than 20 exhibits and a variety of applications such as multi-component technology, LSR and HTV processing, powder injection moulding, packaging, medical technology and optical applications, as well as the overmoulding of inserts, also using the hot melt process.
It also showcased the new long-fibre direct injection moulding process, developed together with Süddeutsches Kunststoff-Zentrum SKZ in Würzburg, that allows inline feeding of fibres and melt, enabling longer fibres (30-50 mm) to be processed, with lower occurrences of fibre damage. This was shown on a Allrounder 820S that was moulding glass-filled PP automotive housings, with the glass rovings fed into the melt using a Coperion dual-shaft side feeder.
Meanwhile, a 40-tonne Allrounder Golden Edition demonstrated another new process: particle-foam composite injection moulding, a joint project with Krallmann and Ruch Novaplast. Here, a foamed component is moulded with a polymer. The two components are bonded together, so that there is no need for a subsequent assembly step. This technology opens up new options in the fields of electric mobility, lightweight construction and insulation. A Multilift robot was loading a small wheel made of expanded foam into the injection press, with rigid PP in the middle.
Austrian firm Engel showcased its all-electric e-mac in two applications: a 50-tonne machine producing two-pin PBT plug housings in a fourcavity mould in a shot weight of 3.6 g and an e-mac 310/100 with an integrated Engel Viper 6 linear robot producing PP/LSR wine bottle stoppers, in a single step, using a mould from Elmet. The firm says it has succeeded in combining barrier technology with thinwall moulding thanks to the co-injection of PP and a 0.05 mm EVOH barrier layer.
Another Austrian firm Wittmann exhibited five injection moulding machines, 11 robots, and more than 60 auxiliary devices, with complete production cells, including auxiliaries, automation, and machinery, combining the machinery of the former Battenfeld with the automation and auxiliaries prowess of Wittmann.
Germany-based Boy, meanwhile premiered the 25 E VV insert moulding machine with increased clamping force and an energy-efficient servo-motor pump drive, with an 11% reduction in the footprint. Also, the firm showed its Procan ALPHA control for the first time, with a user interface that can be operated like a smart phone. The control system, which will become standard at the beginning of 2013, has been changed to the PCT technology (Projective Capacitive Touch) replacing the outdated resistive touch technology.
German machine maker KraussMaffei also showcased its GX for the first time at a trade fair. The GX 450-3000 produced an automotive component using physical foaming from MuCell technology. It also had on display a three-component process with metal injection moulding on a CX 160-750 machine.
Sister company Netstal, meanwhile, showcased the new Elion 3200, demonstrating the manufacture of thinwall PP lids in a 3.4 seconds cycle time. The machine features a hybrid drive concept and the Eco-Powerunit for efficiency. The Swiss firm also introduced Preblow, an injection blow moulding process that the company claims reduces bottle weight and cycle time. During the patent-pending Preblow process, the preform is blown out in the base area directly after injection moulding, thus creating a thinner wall in the base area. The resulting larger surface area, and thinner wall, means less heat energy is needed in the blowing machine.
Sumitomo Demag displayed an IMD-IML production cell using its 210-tonne Systec with a one-cavity mould from HBW-Gubesch Kunststoff-Engineering, to produce 2 mm PMMA display frames in a single step. A laminar-flow module from Max Petek cleans the sucked-in external air and uses a filter fan unit (FFU) to prevent particles entering. The IMD decor foil for the front of the display is placed by means of a feed unit from Leonhard Kurz.
Ancillaries and robots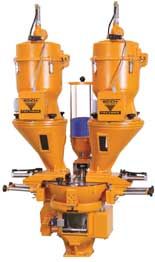 Koch-Technik presented two new types of its patented gravimetric Graviko dosing system: GK65 and GK200, able to dose tiny quantities, with an accuracy of 0.001 seconds, says the firm. These are paired with the MCm-G control unit for gravimetric dosing systems.
Engel, meanwhile, expanded its Viper linear robot series, which it launched at Fakuma 2009, to a 120 kg model.
French robot maker Sepro Robotique launched the 5X and 6X linear robots with additional axes in the wrists, utilising Staübli technology, and a partnership with Machines Pagès, a specialist in IML systems for 25 years, to create high-speed IML system for the packaging sector. The 5X Visual multi-axis robots are based on Sepro three-axis Cartesian beam robots but feature a two-axis Stäubli wrist that has been added to provide additional compact servo rotations. The 6X Visual robots, combine a Stäubli six-axis articulated-arm robot with the Sepro Visual 3 control for a generalpurpose automation system in five models for machines from 20-4,000 tonnes.
The IML cell demonstrated the moulding of 1.2-l pails with wrap-around labels in a two-cavity mould in a 4.5-seconds cycle. A 250-tonne Demag El Exis used an SE 350 side-entry model controlled by the new Visual 3 dual-core controller, which also controlled the label-handling module supplied by Machines Pagès.
Sepro is offering the IML systems for machines from 100-500 tonnes, applying flat or shaped labels to parts such as lids, pots and trays.
(IMA)